Aerospace Imagineering Presents:
MICHAEL
from FOOTFALL by Larry Niven & Jerry Pournelle

Science Fiction author Larry Niven needs no introduction. In his stories and collaborations, he has created some of the most imaginative and advanced spacecraft concepts ever conceived. Aldo Spadoni is an aerospace engineer and conceptual designer, specializing in the realistic design and visualization of future technology. Larry and Aldo have been collaborating to visually bring to life these wonderful spacecraft and other advanced technological concepts, as described in Larry's stories. The detailed designs are being developed by Aldo using aerospace industry systems engineering principles

MICHAEL is an example of this endeavor. FOOTFALL by Larry Niven & Jerry Pournelle is a classic story of alien invasion. The invading Fithp force the human race into a condition of servile surrender. In secrecy, humanity builds a battleship named MICHAEL, a nuclear powered mountain of steel to rise up into space and do battle with the aliens on their own turf. MICHAEL is based on the nuclear pulse propulsion concept developed under Project ORION (1958 – 1965).

Aldo Spadoni is President of Aerospace Imagineering , a consulting firm specializing in advanced technology conceptual design and visualization for the aerospace, publishing, television, and motion picture industries. For more information about the Niven Project, please contact us at aldo@alum.mit.edu.

All imagery is copyrighted © 2001 by Aerospace Imagineering and Aldo Spadoni. All rights reserved.

Battleships similar to the design of Michael are sometimes found in space MMO video games in addition to science fiction stories.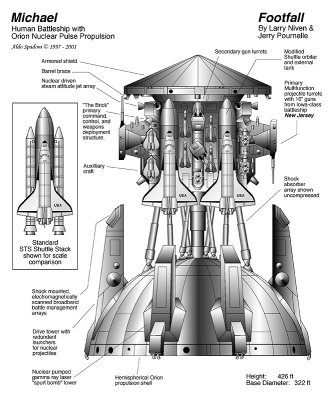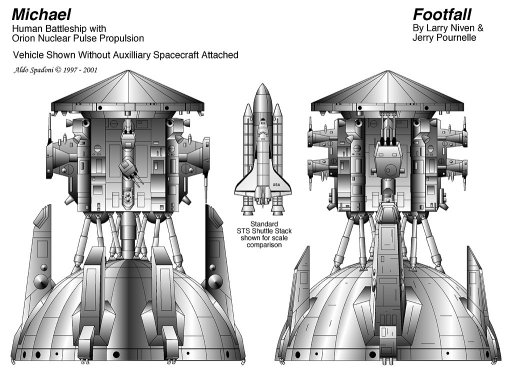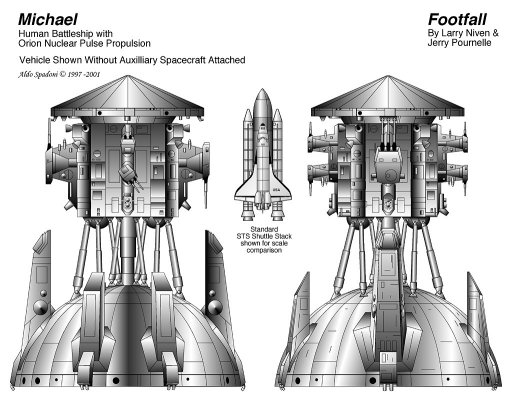 For information on Project Orion and other advanced aerospace projects, see the

Aerospace Projects Review webpage.