Large-format paper prints for sale
Update, November 2016:
These are no longer available for sale. If you are interested in any of them, feel free to send me an email... I might have one or two left, or if there is sufficient interest i might have more printed.
---
These are mailed rolled in a sturdy tube and bagged in plastic to protect them against water damage in transit. Note that since these are mailed, physical items, the turnaround time will be a bit longer than for downloadable items. Postage: there are two options... US and non-US. A single postage payment is good for up to six (6) prints when ordered together, so there's savings in buying in bulk! The prints are digitally printed on "CAD" paper (noticably heavier than standard printer paper) in full color matte finish.
Payment by PayPal is preferred.
NOTE: Because several have asked... the "corporate" images here were obtained from unclassified public domain NASA reports with explicit "no copyright" notices.

Don't forget the postage!
Postage fee for up to a dozen prints: $10 US, $18 elsewhere. Make sure to select the proper postage: US or Elsewhere. Again, this one rate of postage is good for up to a dozen prints. If you want more than a dozen, contact me and I'll work out the proper postage.

US postage: $10.00
Everywhere Else postage: $18.00

Payment by PayPal is preferred.


1/72 Saturn V Blueprint
Full color, high quality print of NASA-MSFC drawing 10M04574, the Apollo 8 AS-503 Saturn V. At 1/72 scale, these prints are about 71 inches/180 cm long.

These were printed from a new single full-color scan... not stitched together from separate scans. As a consequence there are no discontinuities or sudden slight color changes... it looks just like the original. I have the original framed and hanging on a wall, and it looks freakin' *awesome.*

Make your co-workers jealous. Impress members of the opposite sex. Improve your chances of salvation. Buy a copy of the Saturn V blueprint today!
Photo 1, Photo 2

Price for Print 1: $35

-------------------------------------------------


1/72 Saturn Ib Blueprint
Full color, high quality print of NASA-MSFC drawing 60C00722, the AS-207 Saturn Ib. At 1/72 scale, these prints are about 42 inches/106 cm long. The original was in B&W, and was digitally converted into a blueprint using the scame color cues as the Saturn V.
Photo 1, Photo 2

Price for Print 2: $20

-------------------------------------------------

Saturn Ib with SRBs Blueprint
Full color, high quality print of NASA-MSFC drawing 60C, the Saturn Ib MLV-Sat-IB-11.7A. At 1/72 scale, these prints are about 42 inches/106 cm long. The original was in B&W, and was digitally converted into a blueprint using the scame color cues as the Saturn V.
Photo 1, Photo 2

Price for Print 3: $20

-------------------------------------------------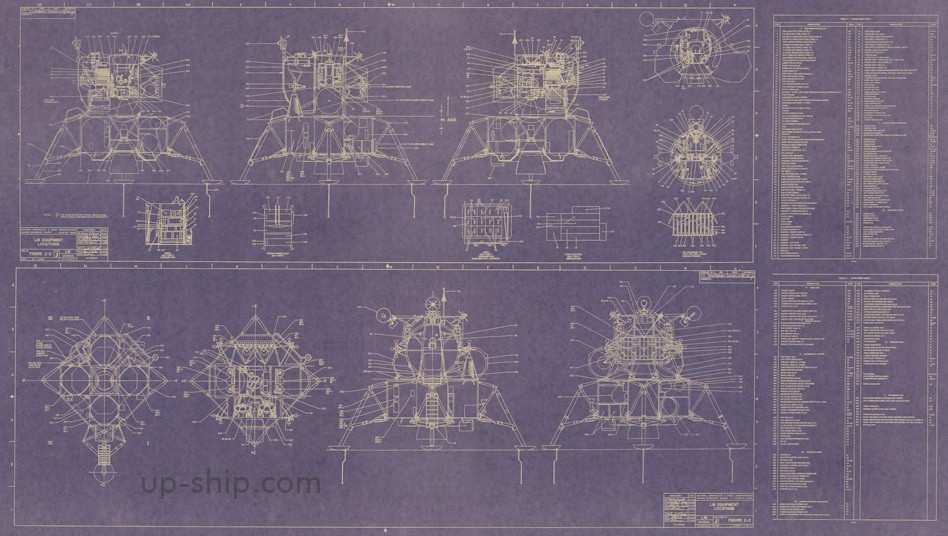 Lunar Module Equipment Locations diagrams
Full color, high quality print of NASA-MSC drawing dated January 1969 showing the Lunar Module and many pf the important bits of equipment that went into it. These prints are about 32 inches/81 cm wide by 18 inches/46 cm tall. The original was B&W; it has been converted to a full-color "blueprint" using the Saturn V as a color reference.
Photo 1

Price for Print 4: $35

-------------------------------------------------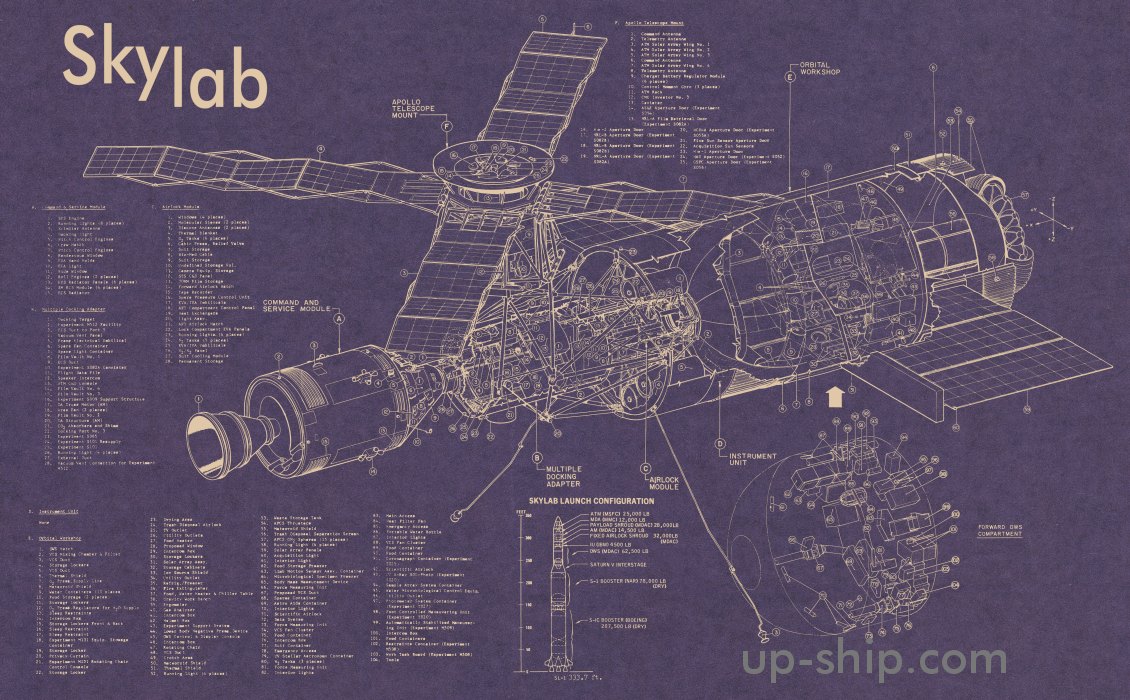 Skylab Cutaway
Full color, high quality print of NASA cutaway illustration of Skylab, with callouts. These prints are about 40 inches by 24 (101 by 61 cm)
Photo 1

Price for Print 5: $35

-------------------------------------------------